Roof Deicing and Gutter Trace Solutions
Warmzone Snow and Ice Melting Systems keep Roofs, Drainpipes and Gutters safe Throughout Winter
Protect Roofs and Homes from Ice, Snow and Water Damage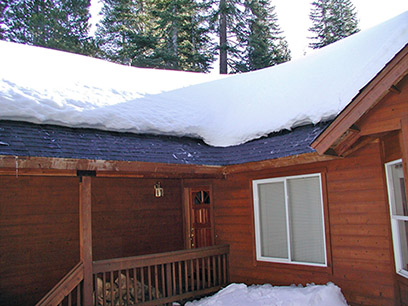 Older buildings are a visible testament to the damaging effects of ice and snow which can destroy fronts, roofs, drainpipes, and gutters. Old roofs are often poorly insulated or have substandard support structures, and such shortcomings can result in ice dams that enable water to enter the building. Once winter frost sets in, damage is often inevitable - and very costly. Industrial buildings with flat roofs, on the other hand, often give in to excessive weight loads generated by accumulations of water, ice, or snow.
Installation
Roof deicing systems should be installed by a qualified contractor. In some cases, the need to install splice kits, end seals and power connection kits may be necessary. Although any handy homeowner can install much of the system's heating element, it is important to have a qualified electrician connect the wiring. This protects the homeowner by keeping the warranty valid. (Please refer to the installation guide for detailed information on how to install your Warmzone system.) Feel free to contact us with questions regarding installation or help planning your project.
Warmzone Provides a High-tech Heating Solution to Prevent Ice and Snow Accumulations
A Warmzone snow and ice melting system for roofs consists of self-regulating heat cable, activation device (snow sensor) and installation accessories. Warmzone's roof heating cable can be installed in virtually any type of roof construction for private, business and institutional projects. The wide range of roof heating products provide the possibility to apply the system on metal, bitumen, graveled or tile roofs. Depending on the problem, the heating element can be applied on the roof edge, drain pipes, roof gutters and valleys.
Sound Investment
Warmzone RoofHeat is an investment in safety and peace of mind, putting to rest concerns about unexpected property damage and about driver and pedestrian safety. In addition, the system is a financially sound investment as roofs, drainpipes, and gutters are notoriously expensive to replace or repair. Given that the cost of our ice and snow melting system is comparable to the expense of replacing and repairing what was damaged by the weather in just one winter season, one can easily see that a fast pay-back on investment in a Warmzone system is guaranteed.
Product Offerings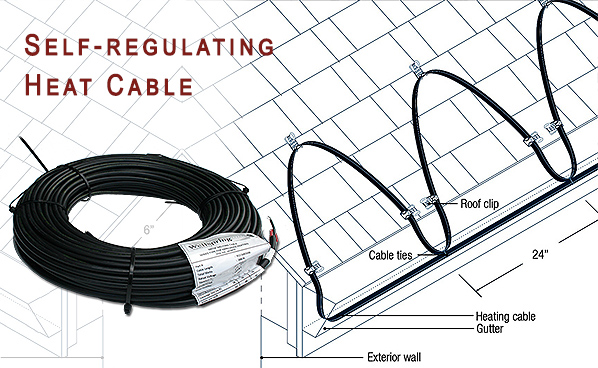 Roof deicing systems are easy to customize and install. A range of roof heating solutions are available. Self-regulating heat cable can be used to facilitate runoff in gutters and downspouts, as well as being installed along the roof's edge to reduce the chances of ice dams.
A low-voltage, flat polymer heating element is also available. RoofHeat STEP can be installed under the shingles or metal roof to eliminate any snow and ice buildup along the roof eaves.
These automated systems utilize an advanced snow sensor that detects precipitation and temperature, and when conditions warrant, the sensor triggers the system, activating just as the storm begins, and therby eliminates any accumulation of snow in the heated areas. Fortunately, these roof deicing solutions are easy to customize, and can be installed to heat roof valleys, edges, gutters, etc.
The two main sensors are the Warmzone WS-5 and WS-8. Both sensors are aerial-mount sensors, but the WS-8 has a remote sensor that can be placed directly in the roof gutter or some other appropriate location.
Contact a roof heating expert to learn more about the options that are available to you. Call 888.488.9276 today.